---
---
---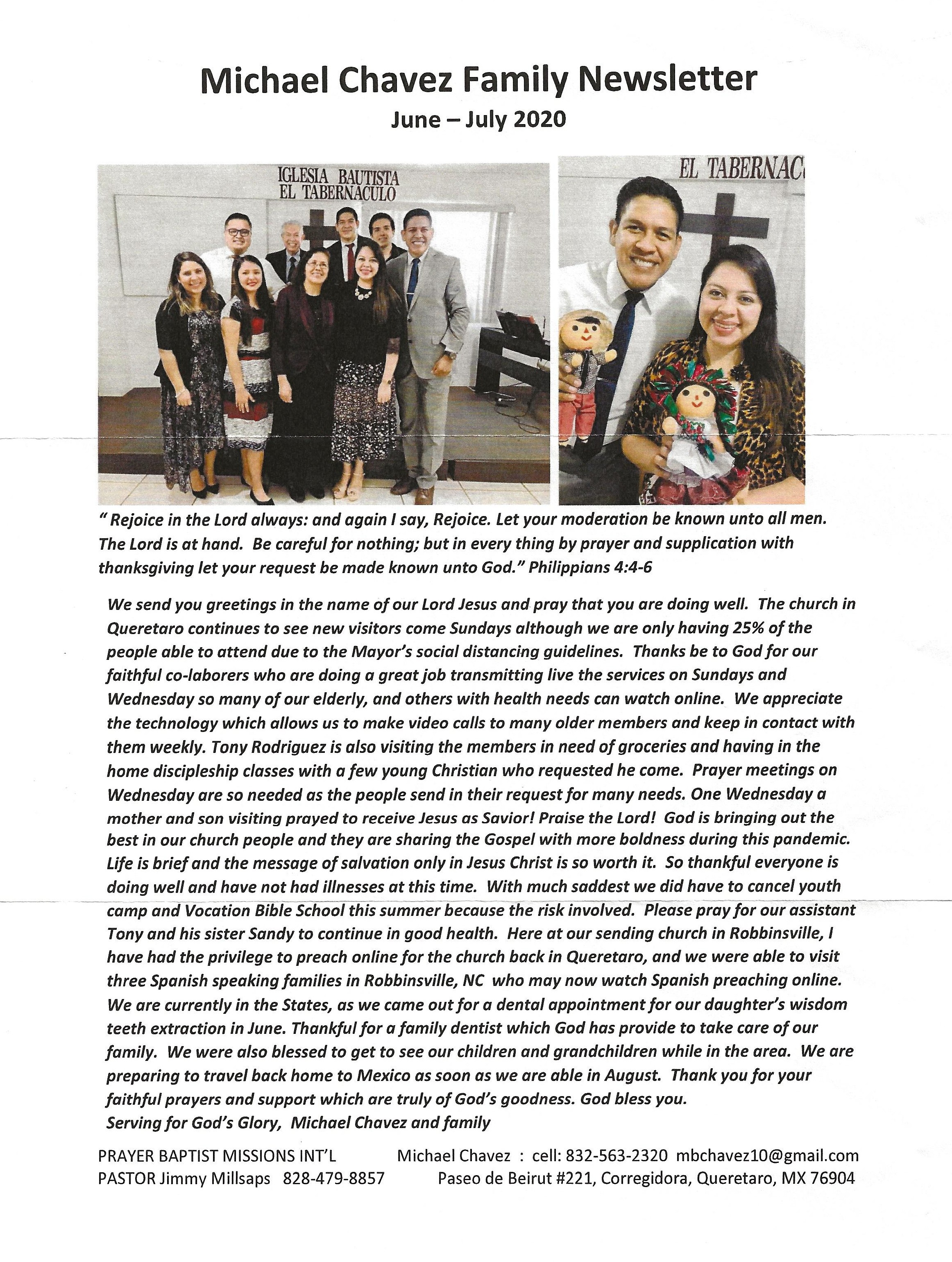 ---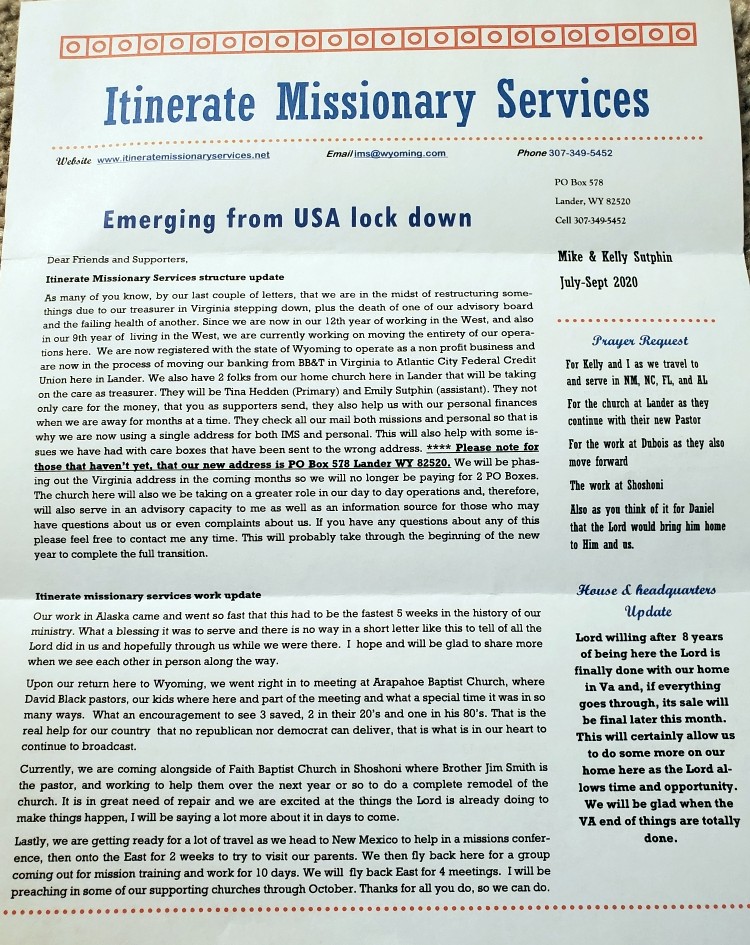 ---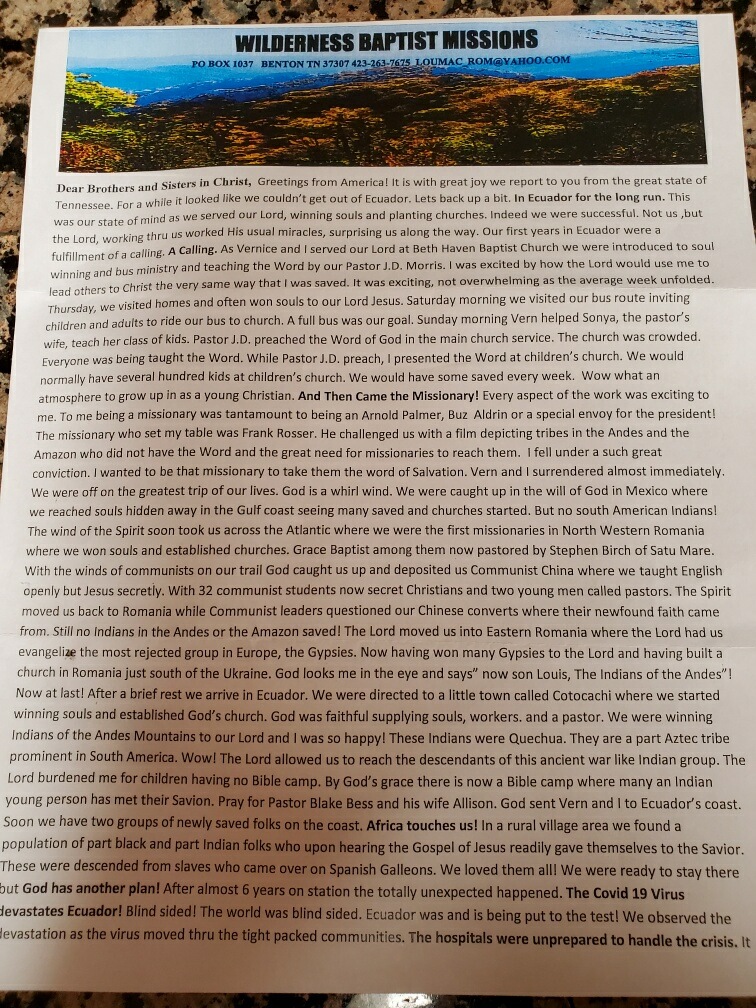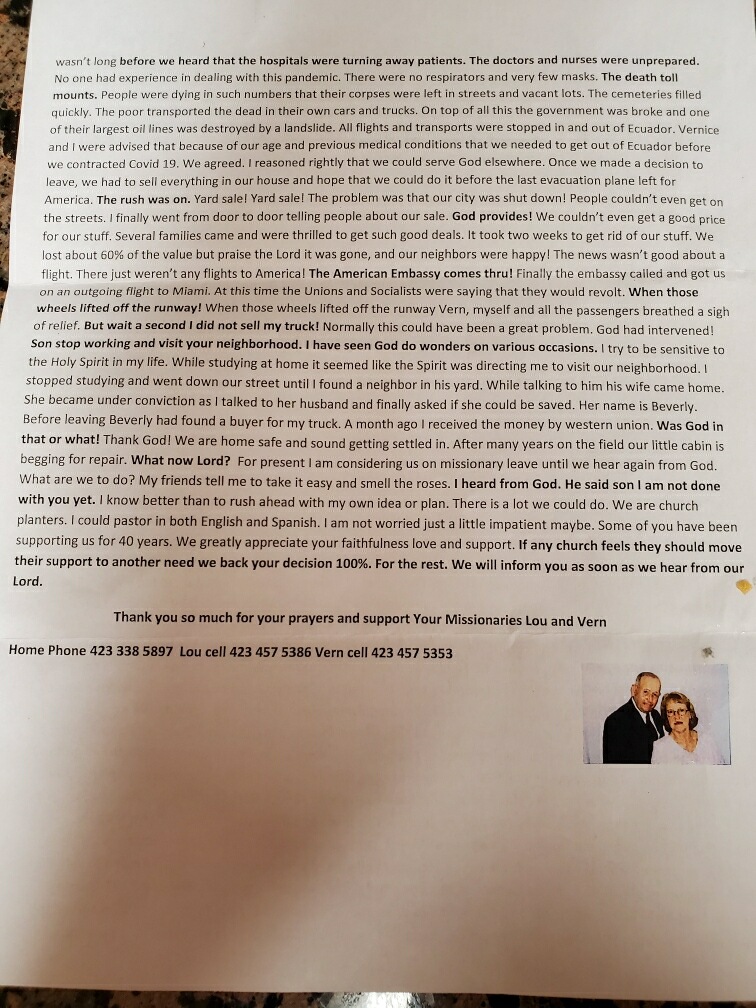 ---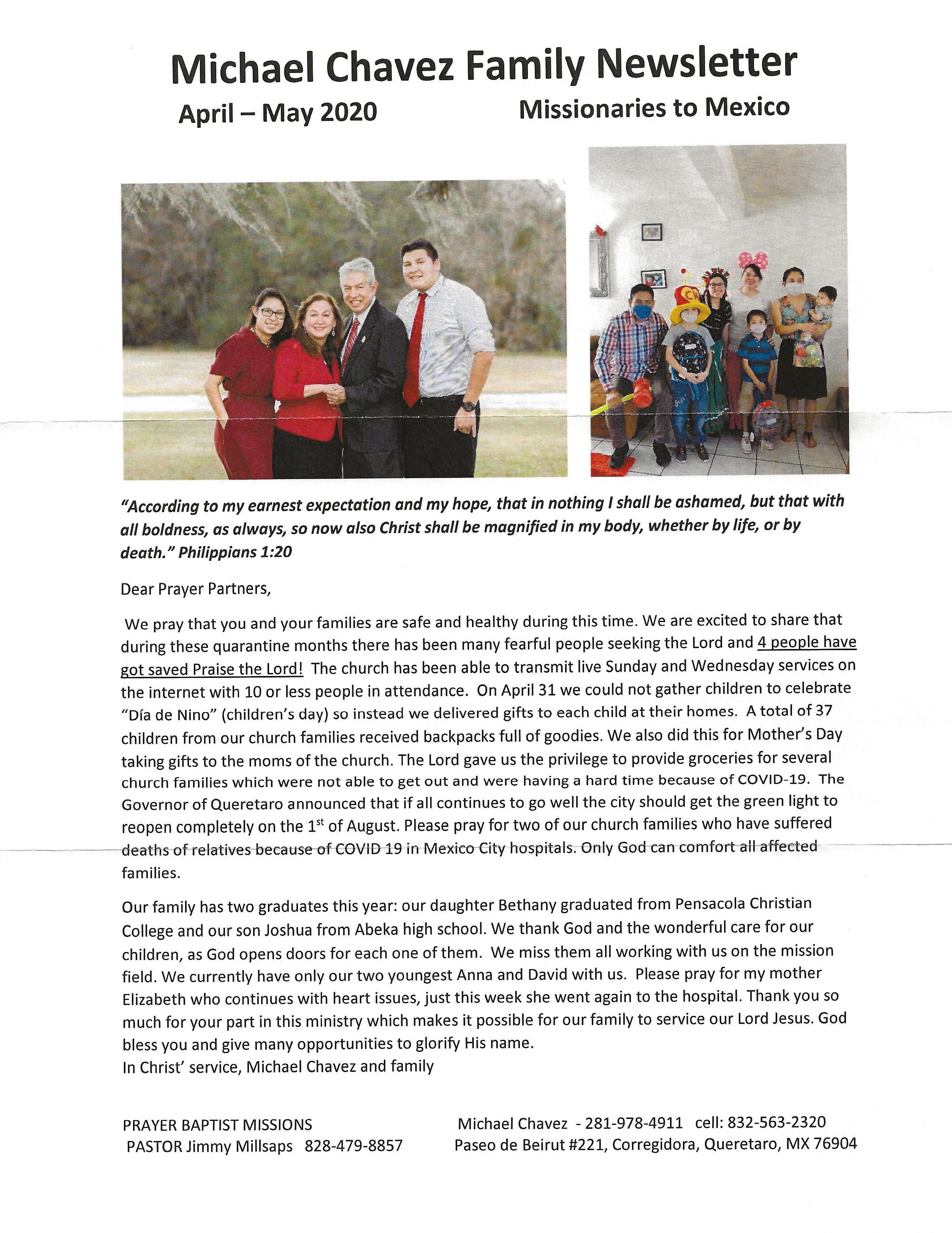 ---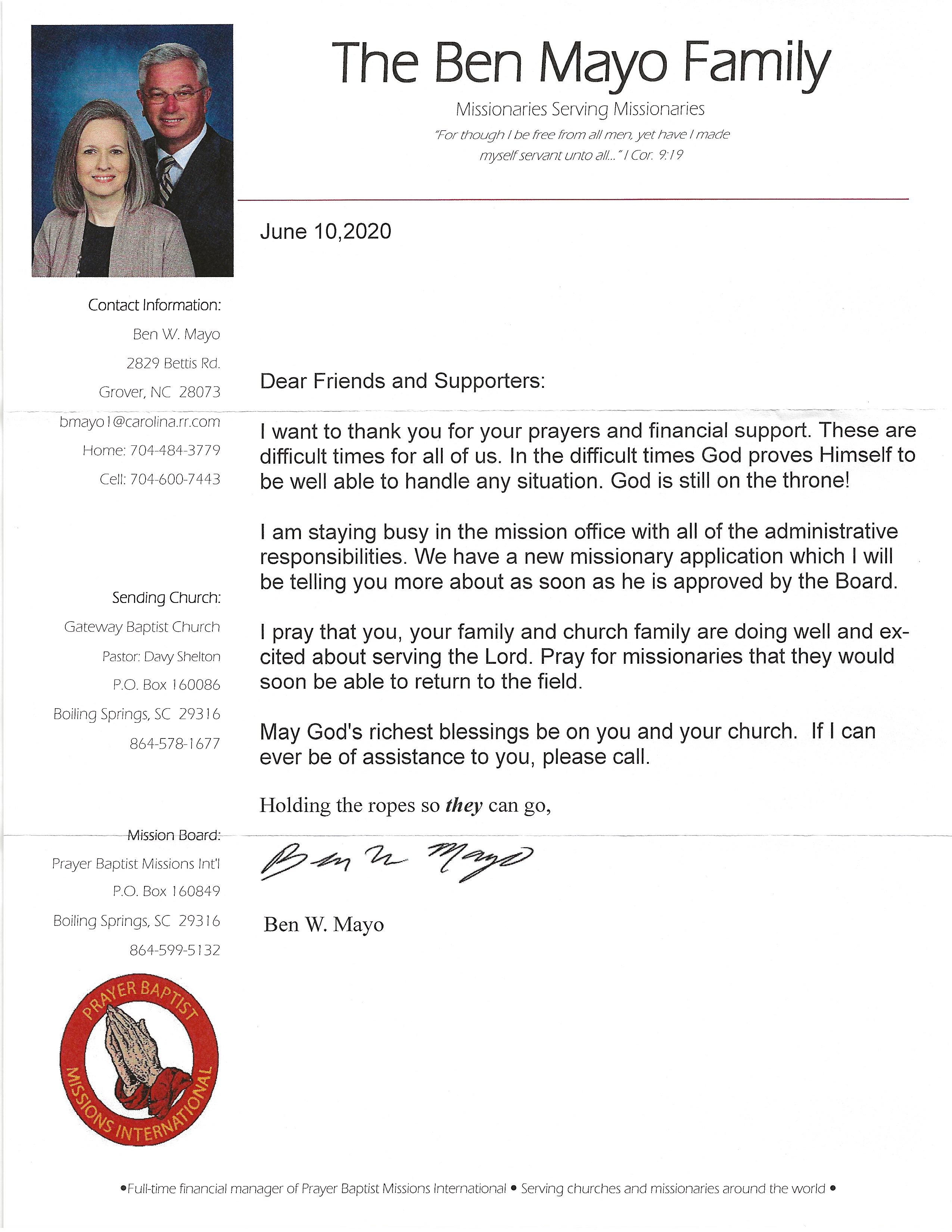 ---
---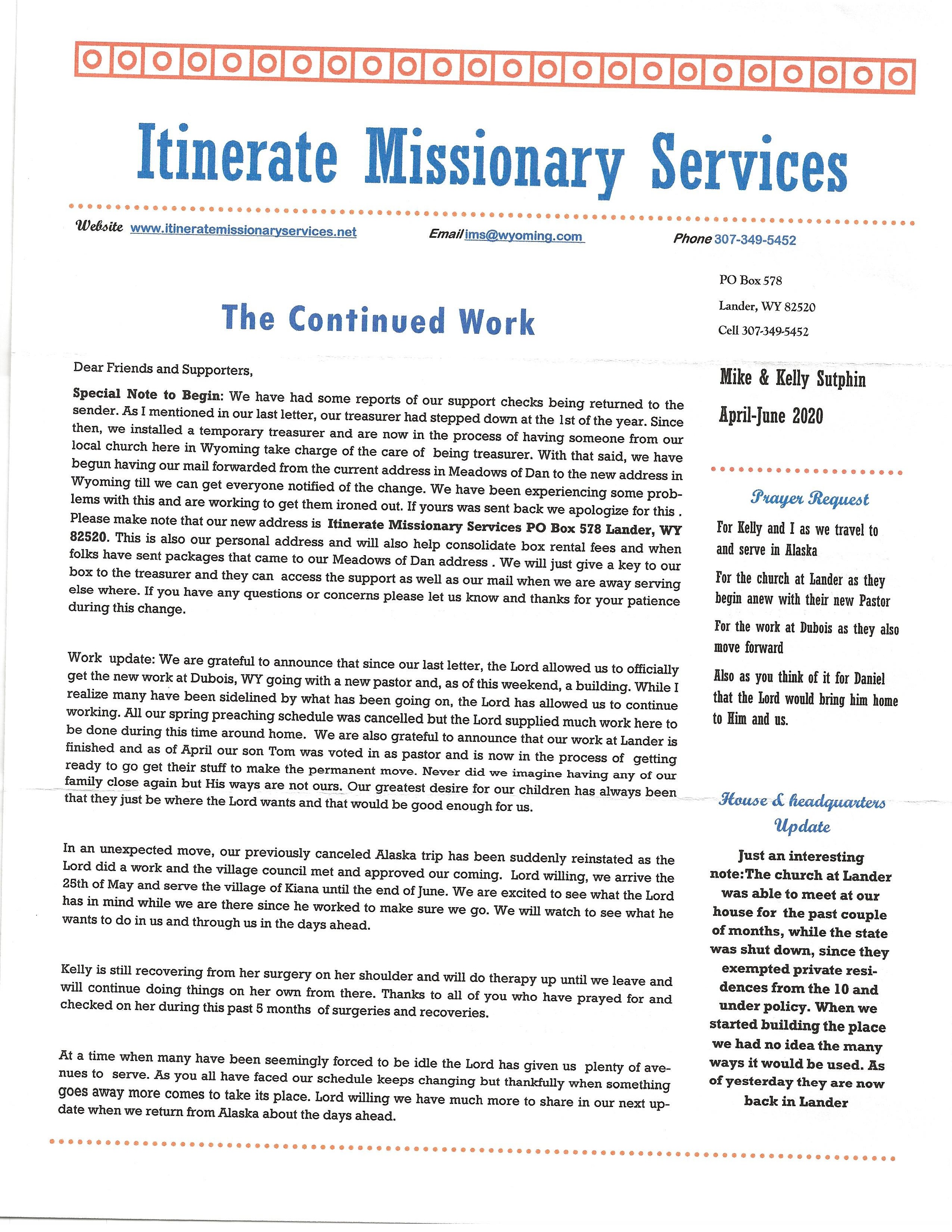 We received this "Thank You" card from Lou and Vernice McKinney that we wanted to share with you.


---
---
---
A SPECIAL MESSAGE FROM LOU AND VERNICE McKINNEY

***Lou and Vernice are back home in Benton, Tennessee now. I'm so thankful for the Lord's protection in getting them out of Ecuador and back home again.


We received this special message from Lou and Vernice McKinney on Wednesday about their situation in Ecuador and wanted to post it for all to read.
"My dear prayer warriors and supporters. Vernice and I have made a decision to leave the field of Ecuador where we have served our Lord for five productive years. Our decision comes in response to the virus situation here in Ecuador. I think we all were blindsided by this horrible plague and its disastrous results. Our decision was based on two factors.

First was financial. I have already received notifications that some churches were under such financial strain that they could not continue our support. Many of their members are out of work and cannot give. Churches are not meeting. We cannot risk being in a third world country with little funds to survive. If Ecuador goes into crisis Americans would become targets. Some churches are getting up special offerings to help us buy tickets and transition out of here. Help would be appreciated.
The second reason is health. As many of you know Vern and I are both in our seventies. I have seen the Lord bring me through heart attacks and some lung problems. We praise the Lord for His goodness. This virus is attacking the older generation without mercy. I do not need to get this virus. We don't know if it will be eradicated or if it will come around again. I do know that I want to live to serve the Lord more. The hospitals here are ill prepared to handle a virus. Hospitals here don't have the necessary equipment and qualified doctors. We are profoundly sad to leave the field of Ecuador but are confident that the Lord has a place for us. Please be much in prayer for us as we pass through these days. Thank you so much."
At that time, they said there were practically no flights out so they weren't sure when they would be able to leave. Then Friday morning we received this message from them.
"Update! Tickets have been bought! They just say they need 126 people to go or they don't fly out. He said he would confirm the tickets on Tuesday evening. I then told the young man helping me with the tickets that I would be praying that this plane will fill up. I then sent him a message thanking him for him being so kind and helping us and for him to stay safe and well. He wrote me back that the plane is filling up he will be able to confirm our seats by Tuesday! He also thanked me and said he wanted us to stay well also then he ended his message with Amen. I thought that was real special. Amen is a special word for us Christians."
An extra note just for information—Alice messaged Vernice and found out that they had to put the cost of their tickets and hotel expenses for the trip on their credit card. Any money sent to them will be used to help take care of paying that debt off. Keep all of these things in your prayers as we have supported Lou and Vernice for many years. Pray for their safety from the virus before they leave and their safety as they leave. I will do my best to keep you posted with any updated information.


**Here is the latest newletter from them (I wasn't able to get the pictures to load for the site)**

Dear Brothers and Sisters in Christ,

Greetings in Jesus name. My how things change from one newsletter to another! In the last newsletter we were writing from a normal world situation. Now the whole world is experiencing a global Coronavirus Pandemic with many thousands of infected and thousands of dead! Fear lights the fires of insecurity throughout the world.

Every life in the world has been interrupted, changed and the multimillions of plans of mankind lie in a huge scrapheap.

It's as if a voice from heaven proclaimed,' enough is enough!'.

For her sins have reached unto heaven, and God hath remembered her iniquities. Rev 18:5 Therefore her plagues shall come in one day. Death, and mourning, and famine; Rev 18:8 The Lord is talking about the suddenness of this calamity.

These verses clearly demonstrates a sovereign Lord who is saying prepare yourselves,

Surely, I come Quickly! These verses were taken from the days of Tribulation which will overtake the world, show us clearly how the Lord even works in these pre tribulation years.

God does not change! The Lord reaps! It wasn't long ago that our Lord charged his Apostles with World Evangelism.

And Jesus came and spake unto them saying, All power in given unto me in heaven and in earth. 19 Go ye therefore and teach all nations, baptizing them in the name of the Father, and of the Son, and of the Holy Ghost. The bringing of the sheep into the fold has top priority with our Lord. That is why the church exists. That's why Jesus died, was buried and rose again. AS churches go through tremendous financial difficulties faith missionaries who depend entirely on the local church for their living support find themselves in big trouble. Unfortunately when some churches go thru financial trials the missionaries are the first to be cut. Vern and I have been there several times. When a church drops our support, we make adjustments and go on by faith. This pandemic is different. Multiple churches are cutting their missionaries loose. Missionaries are faced with leaving the field because they can no longer pay the bills on the field. The Morrison family, Missionaries to Uganda have been thrown into lions' den by loss of support. This family has five beautiful kids and served in Uganda ten years. Their situation is not good. THEY CAN'T GET OUT!

I think that the church forgets or is not aware of the dangers to the lives of their missionaries. They can't get out. They are stuck in a dangerous situation. They need beds to sleep in, food for the family.

When a missionary has money, he can get himself and his family out of a hundred difficult situations. For their survival this family has to leave. They need $25,000 dollars to pay their tickets, hotels and food to get home.

Pray for the Morrisons. At the time of this newsletter there are literally thousands of missionaries who are faced with similar situations. For now Vern and I are OK but that could change.
Situations in Ecuador are very fluid. The government here is stable but all of that could change in a heartbeat. Vern and I might be faced with some difficult situations which will lead to difficult decisions. The missionary is much more than a program. We are real people with real needs, and we like your kids are totally dependent on you. So what do we do with your money? Besides paying bills, gas and ministry expense we help people. Alejandra. While Vernice was walking her dog Missy she was approached by a 21-year-old young lady named Alejandra. Alejandra was begging for 50 cents to help her buy food for her and her 11 month old baby. Notwithstanding she is 7 months pregnant. Vern having no money and feeling compassion for her brought her home to me. During the ensuing conversation she said plainly, "I am poor" I found out that she lived in a one room shack. The old tin roof leaked when it rained. Her floor was muddy. Her bed was damp from being rained on. There was no food in the house. Very few clothes for her and her daughter. She had no one to care for her. No family. Alone! By that Time the Lord had given me a good dose of compassion also. I gave her $20.00 for food and determined to visit the house. The next day I visited and was able to confirm her story. I was shocked to see a 2-month-old puppy come out from under her bed. The puppy had to be right before death. Its eyes were very matted, and its ribs were protruding. To me the puppy was an example of this young lady's situation. I left determined to do everything in my power to lift this young lady up. That week she got a new roof, a new bed and pillows, cement floor, saw a doctor and got medicine and vitamins. And she is now stocked with food. She has not missed a church service and this month she will receive Jesus! Grandmother!!! She is affectionately called Abuela. Grandma. She and her great grand children never miss a service. Upon visiting the house one day she looked ill. She complained of lung pain and had a fever. At 97 years her witness is strong and inspires her whole family to trust in the Lord. The family is poor. I did not like what I saw! I returned the next day, loaded her and a grandson up and took her to a private doctor. He told me that he was worried for her and asked me permission to intern her in his hospital. The doctor found two infections and a big vitamin lack. That week she came home. That Sunday at church she sang two specials and gave praise to the Lord. Thank you churches for your gifts and faithfulness. We are in lock down! I can't use my truck. Can't have church. Can't go outside. I think that I might just go stir crazy! Remember your missionaries! Their situations are becoming progressively worse.!

Your missionaries in Ecuador,
Lou and Vernice McKinney

---
---
MARCH NEWSLETTER FROM JIMMY MERCADO
Hello! How are you all doing? Thank you all for your prayers, by the mercies and grace of God Jeraldine and I are doing good. God continually sustaining our needs, and keeping us safe and our people. We have prepared some activities for summer since March and April are summer where students have no classes, but as the Corona Virus (COVID19) approached our Country everything has changed. We thanked the Lord that March 15,2020(Sunday) we had the chance to gather and held our service not knowing that it would be the last being with our people, two weeks from now our government announced that we will be in enhanced community quarantine to stop the virus from spreading, where in we are not allowed to go outside except to buy food and we need to have a quarantine pass. Our hearts felt so sad especially two Sundays now that we are not with them. But I recorded a sermon that my people can hear and asked them to pray with their families in the house. We know it's just not happening in our country but all over the world, but we also know and sure that God is still on the throne and He is still in control of everything. We are praying with you in the midst of this battle, only God can help us, and only God can stop this. Whenever we have a round the clock prayer time, you are always in our prayers may the Lord protect you, your family, the whole church and your country until this pandemic ends.
As of now, there were 2,600 plus people that are infected in our Country, and everyday it increases so fast, doctors are dying. Help us to pray for our frontliners, may the Lord keep them safe as they face the battle, and may the people get to know Jesus Christ and experienced the gift of Salvation.

We love you all! You are always in our prayers!
GOD BLESS YOU ALL
In Christ,
Jimmy and Jeraldine
Phil 1:21






---